by Dan Christian in Blog.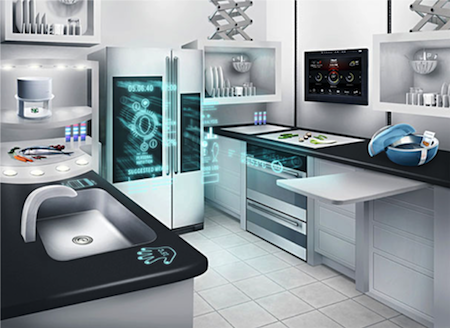 Westchester, CA homes continue to be thriving investments for families and working professionals who desire setting up home in the most desirable neighborhoods of Los Angeles. According to DQ Home Data Reports 32.1 percent of all Southern California homes sold for $500,000 and more—a 2013 figure that has stayed stable only fluctuating by less than a percent all year long. Buyers who invest in homes priced half a million dollars or higher are comprised of two types: those who seek move-in ready properties and those who look for the "fixer upper" homes that, when finished, will be valued significantly higher and in some cases well over seven figures.
Whether a seller is trying to draw attention to his property out of all the other available Westchester, CA homes for sale, or a buyer is trying to add equity into his newly purchased renovation project, high-end tech toys are great investments for adding value to Westchester, CA homes. And with Westchester, CA homes resting in one of the most desirable Los Angeles neighborhoods, most buyers expect high-end finishes to mirror the top-notch location.
Appliances and Lighting
It goes without saying that stainless appliances are the norm for any kitchen in Westchester, CA homes priced half a million dollars and higher. But what if you could talk to your appliances and tell them what to do? It used to be that hardcore tech junkies would flock the yearly Consumer Electronic Show (CES) in Las Vegas every January, but this year contractors, home flippers and buyers from all over the country arrive in droves to discover new appliances that can be added to Westchester, CA homes and kitchens across the country with the objective to change the way people live. Now you can give your appliances and lights a command with a line of products from "Samsung Smart Home" debuting at CES 2014. These devices give users three primary controls: Home View, Device Control and Smart Customer Service. Device Control lets the owners of Westchester, CA homes access customized settings for all of their devices on their iPhones, Androids and tablets. The products will also allow you to use voice commands telling your devices when you are going out. This will allow the home's lights to be shut off at times when homeowners are gone and the service will even tell your washing machine and dishwasher when to do its job while families are away from their Westchester, CA homes.
Refrigerators, microwaves, dishwashers and ovens can be told what to do via a smartphone or tablets. Homebuyers will love the ability to be in the office while having full control of cooking the Thanksgiving turkey. The "Samsung Smart Home" kitchen provides the high-end aesthetics of stainless while giving homeowners the peace of mind knowing they can control their kitchen while away in the office and return to their Westchester, CA homes with all cooking and cleaning tasks completed.
Coordinate with Your Realtor
Your local expert realtor with years of experience in buying and selling Westchester, CA homes should be consulted with before upgrading the home in these state of the art products. If you are selling a home these products will surely make your buyers wide-eyed with excitement and an eagerness to sign a purchase agreement, but you want to make sure you will get an instant return on your investment. Your Westchester, CA homes realtor will be the best person to help you navigate the pitfalls that may come in spending indulgences. However, if you are buying a "fixer upper" and invest in kitchen products with app technology that are branded by big companies like Samsung or LG, you can rest assured that future updates will be constant and you will get that equity back in time.